In this blog, Heather shares her experiences with Yoga for AS, a yoga program tailored for individuals with Ankylosing Spondylitis. She discusses the instructors, Jamie and Geoff, their practical tips, personalized consultations, and the positive results she has achieved, including reduced stiffness and improved mobility. Join Heather as she dives into the world of Yoga for AS and explores the benefits it offers to those living with AS/axSpA.
Introduction to Yoga for AS and its benefits for Ankylosing Spondylitis.
Heather's discovery of Yoga for AS through relatable social media presence.
Engaging teaching style of Jamie and Geoff, making yoga accessible.
Practical tips and demonstrations for easy and convenient practice.
Heather's personalized consultation and tailored yoga program.
Positive results: reduced stiffness, improved mobility.
Incorporating yoga during a road trip, highlighting its versatility.
Excitement for further engagement with Yoga for AS community and resources.
Introduction

I recently began practicing Yoga for AS under the guidance of instructor Jamie Boder. He and his partner Geoff Lindsay offer exceptional teachings supported by a vast array of resources and an expanding library. I want to highlight the admirable personal qualities of these instructors and the advantages of practicing Yoga for AS.
The Teachers
I discovered Jamie and Geoff through their inspiring, sincere, and often lighthearted posts on Instagram. Their sense of humor was a breath of fresh air.
If you're not already following Jamie and Geoff @yogaforas on social media, I highly recommend that you do. They regularly demonstrate safe, easy-to-follow exercises using things you likely already have within reach.

Their open and honest communication, paired with the fact that they teach from a home setting, puts me at ease and makes me feel like I'm learning with friends.
For example, I remember one Instagram post where Jamie put on a tea kettle, then demonstrated some effective stretches while waiting for the water to boil. He used the kitchen counter for stability. What a brilliant, practical suggestion for making the most of a few spare minutes! I discover quick tips like that one on the Yoga for AS platforms every week.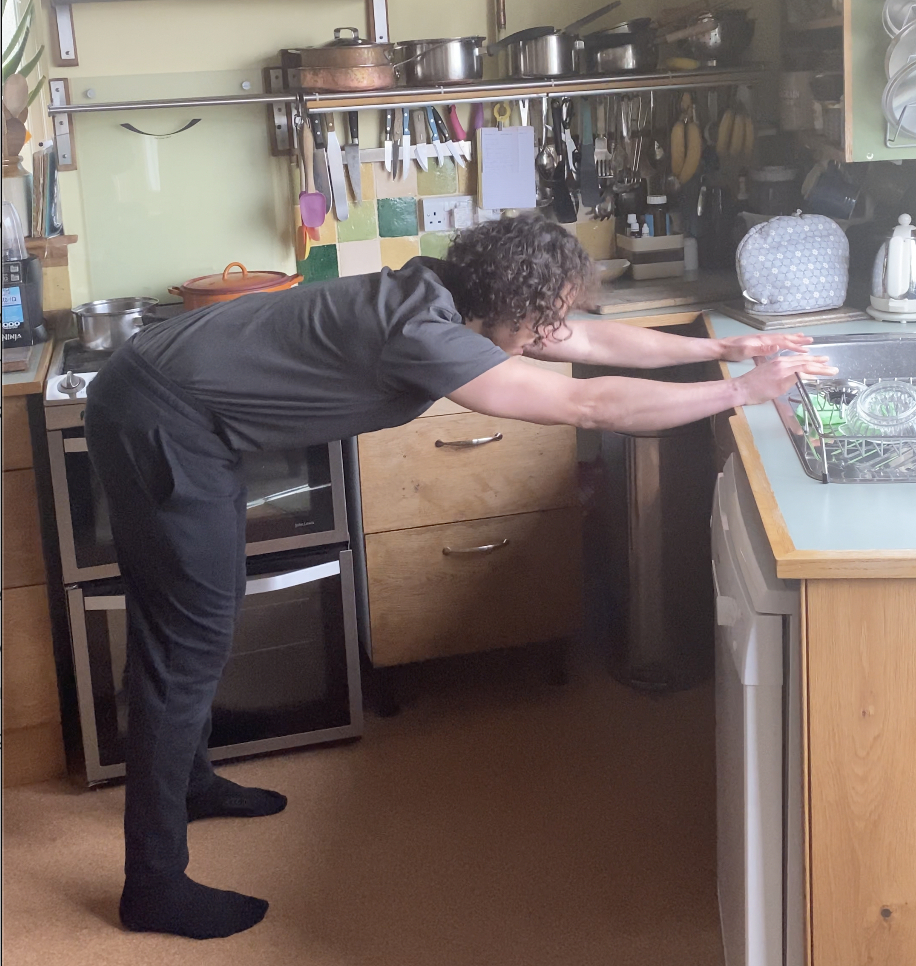 I also enjoy learning from Jamie and Geoff because of their engaging and straightforward way of speaking. Both men are highly fluent in yoga and the complexities of AS, yet they do not come across as overly lofty or intimidating. They have experienced many of the same obstacles as their clients, allowing them to understand and address their audience compassionately.

I am grateful for these men's positive impact on the AS community through their deep understanding and sound teachings. They are a source of hope and inspiration!
The Teachings
Although I have never met with Geoff, Jamie invited me to join their community and offered a one-on-one consultation via Zoom. To prepare for the session, I emailed him my most pressing concerns. Jamie diligently answered all my questions during the consultation and significantly expanded my knowledge.
During our conversation, we discussed various topics, such as improving the quality of yoga practice by calming the nervous system, the connection between the mind and body, and the effectiveness of combining different healing modalities.
Also, Jamie demonstrated excellent listening skills. I was grateful he understood how AS. symptoms could play out differently in individuals, particularly men vs. women. I feel that he truly heard what I had to say, saw me as an individual, and customized the program to my needs.
My tailored plan included four exercises targeting the areas that would provide the most benefit. First, we worked through my program together, and then Jamie created a video to guide me through further sessions.
His clear instructions, focused presence, and perfectly cued movements and breaths were what I would expect from a master yoga instructor. The pace was just right for me, not too fast or slow. Also, the exercises were gentle enough not to cause pain and rigorous enough to be highly effective.
Between my thorough consultation and demonstration video, I was good to go! I didn't have to buy any fancy equipment. Jamie was ready to improvise with props I already had, and it worked out seamlessly.
Lastly, Jamie assured me that he was always available to answer any additional questions I may have and welcomed my feedback. I am excited to continue learning from him.
The Results
After a week, I noticed less stiffness and greater mobility in my targeted areas. I even completed my exercises on a road trip over the holiday weekend. They were a lifesaver!
A long road trip and an odd hotel mattress can make anyone uncomfortable. Keeping up on the program that Jamie created for me helped me weather the trip's strains and continue progress.
Next, I'll sign up for more events and explore the Yoga for AS library. I'm thrilled to have these opportunities to connect with Jamie and Geoff's wisdom and their marvelous community.


Thank you for reading about my initial experiences with Yoga for AS.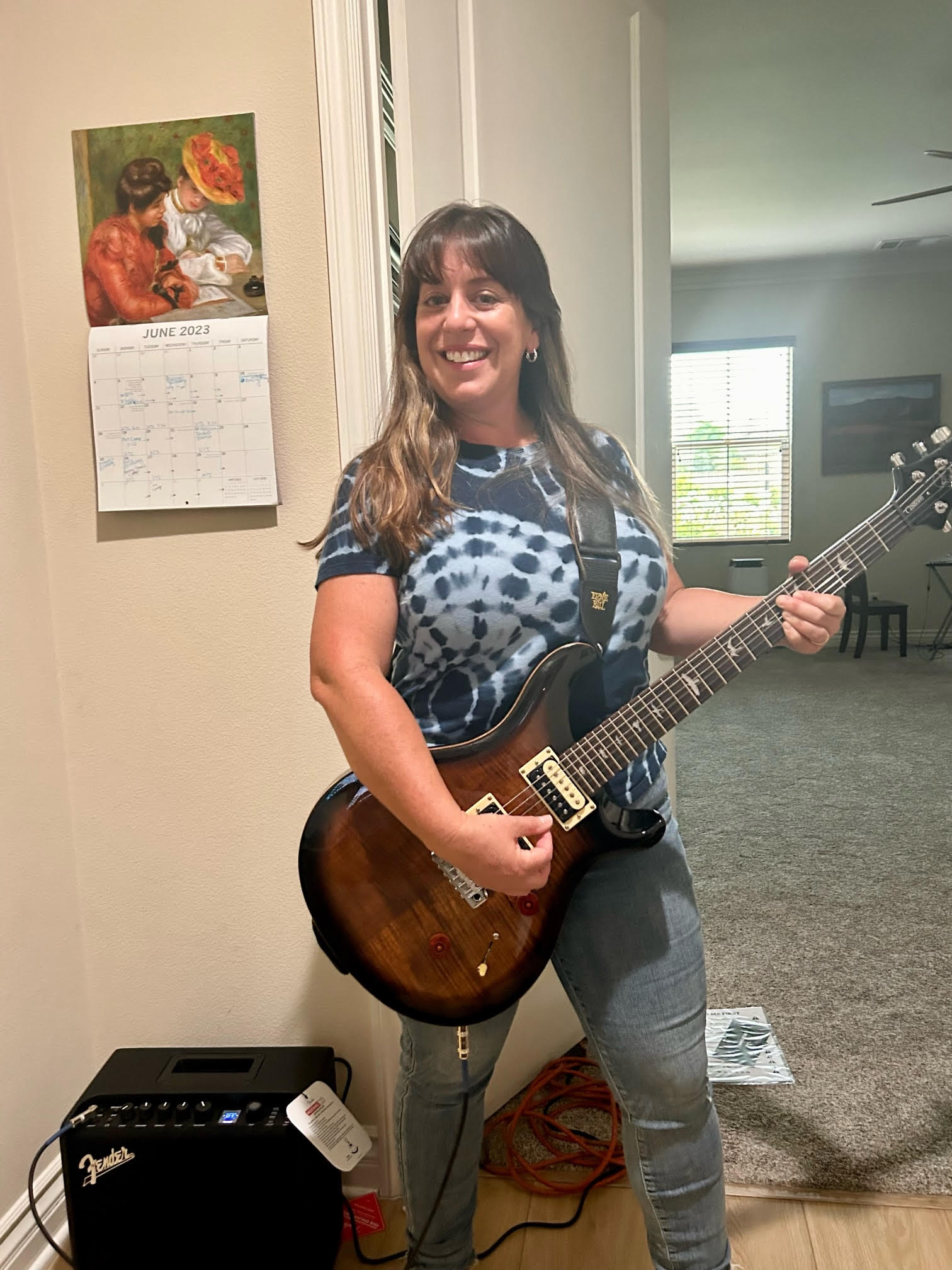 *Heather Paz is an American who loves to drink hot tea like her friends in the UK. She is a blogger and a former elementary school teacher. In 2021, she was diagnosed with AS. Now, she continues into remission and beyond with the help of fine resources like Yoga for AS.

She is already back to enjoying activities like pilates, strength training, hiking, horseback riding, and keeping up with her large family.

Created with