In this blog post you will learn how yoga may help Ankylosing Spondylitis (AS), Axial Spondyloarthritis (axSpA), Spondylitis, and any other form of Spondyloarthritis.
My personal experience of how yoga helped my AS.
The importance of modifying the yoga for your AS.
How yoga can be complementary to treatments.
The importance of staying consistent.
What does the research evidence and healthcare professionals say?
Summary: taking action on AS.

My personal experience of yoga helping AS
Yoga has helped me with my ankylosing spondylitis.
I had a lightbulb moment when I realised that yoga was helping my "bad back". Returning from a 3 day yoga retreat in 1993, I ran up the stairs at home. Stopped at the top of the stairs and it hit me: I just ran up the stairs and I felt loose, limber. After 20 years of undiagnosed awful symptoms, I knew for certain that yoga was helping me.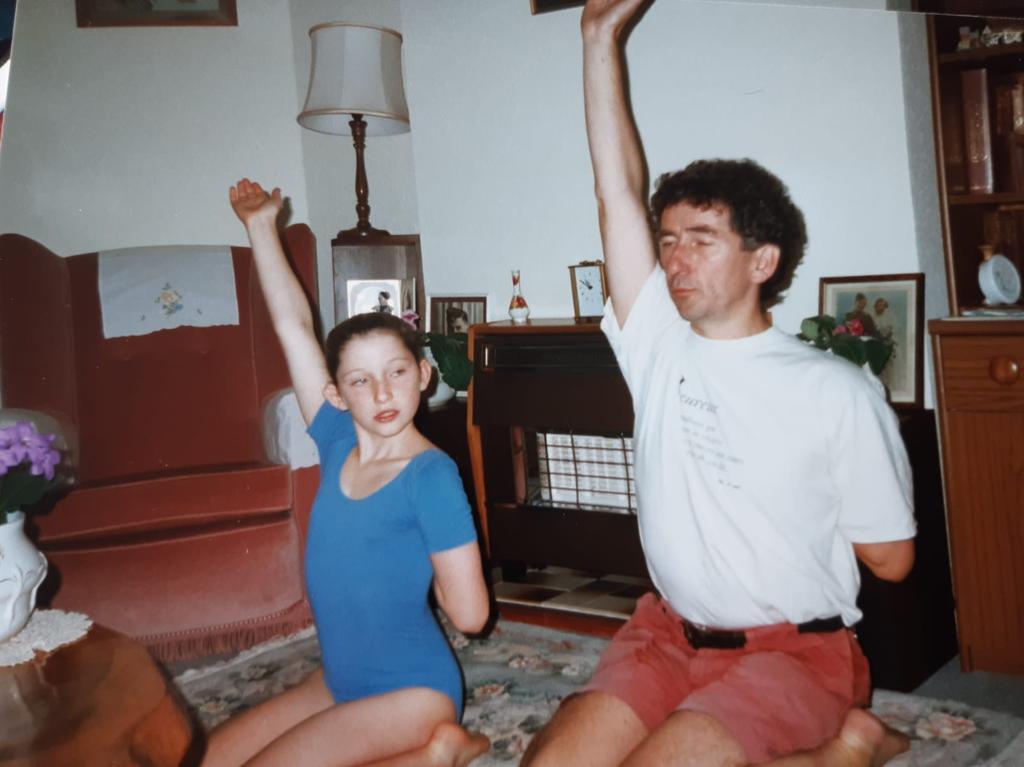 Here is a photo of me practicing yoga with my daughter May, back in 1993.
The importance of modifying the yoga for your AS
Since being diagnosed with ankylosing spondylitis in 2009, I've been adapting yoga for my AS/axSpa/SpA.
Action research by Yoga for AS revealed that 40% of people with SpA/AS/axSpa who join the Facebook group, Yoga for AS, find that while some yoga poses help their pain, others make it worse. That group is now over 3500 people with AS worldwide who think that being able to practise yoga specifically for AS would be amazing.
The fundamental principle is absence of injury. It has to be safe, not cause flares, have benefits, and be enjoyable so that you stick at it.
In practice, this means move slowly and carefully to avoid injury. There is a worldwide movement in yoga away from too fast, too far yoga. Yoga can have answers for flares, pacing, recovery and a big one, fatigue. Yoga modified for AS can work on the whole body and specific areas of SpA/axSpa inflammation.
How yoga can be complimentary to treatments
Just before being diagnosed in 2009, I had to stop going to a physical yoga class. I use the phrase 'physical yoga' because yoga can also mean, breath-work, meditation, relaxation techniques and more, which can be very helpful for AS/axSpA. The pain was so bad I couldn't "do" physical yoga. It was only when I was diagnosed and worked closely with a Rheumatologist and brought my pain levels down that I was able to practice physical yoga.
Professor Andrew Lui gave a talk at the Global Summit of the Spondylitis Association of America in 2021. He said exercise consistently, start and stay with an effective routine, lack of exercise is harmful, people with SpA exercise less, exercise is a mainstay treatment that complements medication at all stages of SpA, medications alone are not enough.
Staying consistent with the support of family and friends

You get the long term benefits after safe regular practice. That means you have to stick at it. You will stick at it if there are benefits, it's safe, and you enjoy it.

Healthcare professionals say we should "exercise" and stick at it, but rarely involve our family and friends. But then healthcare professionals define adherence as 'the extent to which the patient's behaviour matches agreed recommendations from the prescriber'.

One of the ways to practice consistently is including family and friends. They are the biggest help at sticking at safe regular yoga.
The single most standout determinant of sticking at it, adherence, is the substantial and regular care of family members and friends, the carers. And that does not mean the people who push us around in wheelchairs. It means those who provide us with substantial and regular care. It means the substantial and regular effects that our long term health condition has on our loved ones.
We need to press healthcare professionals to rethink their attitudes to carers, to encourage carers to be more assertive, to work in partnership towards self care, including yoga modified for AS.

Yoga can help people with AS, and in so doing it can help the professionals.


What does the research evidence and healthcare professionals say?
"Effectiveness of exercise programs in Ankylosing Spondylitis: a meta analysis of randomized control trials", (Pécourneau et al, 2018) said "results support the potential of exercise programs to improve disease activity and body function in AS".

My reading of the research over many years is that researchers are saying more research needs to be done before research can say it is proven that yoga can help us living with ankylosing spondylitis.

However...

It is clear that movement is very important for people living with Spondyloarthritis.

Every axSpA organisation promotes it, along with many healthcare professionals across the globe.

"In my 15 years clinical experience as a Rheumatology Consultant, people with AS do really well with an optimised stretching and exercise programme. When adherence to this programme is present, the results seen on BASMI are very favourable. The evidence is still evolving. We don't have longitudinal studies to show that it would halt or slow the radiographic progression". This quote is from Dr Raj Sengupta, Lead Consultant for Ankylosing Spondylitis/ Axial Spondyloarthritis patients at the RNHRD, Bath


Taking action on axSpA/SpA/AS/Ankylosing Spondylitis
In summary, research and professionals advise us to "exercise" but not how to safely or effectively. That just is not good enough.
We can make yoga safe, beneficial and fun, so let's get on and do it ourselves.
We can become experts by experience.
Stand by your yoga mats, let's go!


2021 Global Spondyloarthritis Summit
, https://spondylitis.org/resources-support/educational-materials-resources/global-summit-2021/andrew-lui/, Accessed 6 February 2023


Pécourneau V et al, Effectiveness of Exercise Programs in Ankylosing Spondylitis: A Meta-Analysis of Randomized Controlled Trials, 2018, doi: 10.1016/j.apmr.2017.07.015, Accessed 6 February 2023
Created with